Air circuit breakers
Air circuit breakers ETIPOWER are used for protection of distribution lines, generators and other electrical equipment from effects of overload and short-circuit currents.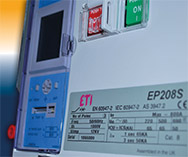 Air circuit breakers ETIPOWER are available in 3 frame sizes from 800A to 6300A, with a voltage up to 690V:
• size 1: current from 800 to 2000A
• size 2: current 2500 to 3200A (Type SB at 4000A made in 2 sizes)
• size 3: current 4000A - 6300A
Sizes 1 and 2 have two versions, draw-out and fixed. There are many options for connecting and wide range of accessories.

| | | | |
| --- | --- | --- | --- |
| | | | |
| Air Circuit breakers | | Air circuit breakers ETIPOWER are used for protection of distribution lines, generators and other electrical equipment from effects of overload and short-circuit currents. | |
| Technical data | | Find out more information about ETI ACBs. | |