Cylindrical fuse disconnector EFD

ETI is introducing new generation of Cylindrical fuse disconnector for cylindrical fuse-links C.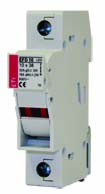 For fuse-links size:
- 8x32
- 10x38
- Class CC acc to UL4248-4
- 14x51
- 22x58
- Class J acc to UL4248-8

Advantages:
- Compliance with IEC 60947-1, IEC 60947-3, UL 4248-1, UL 4248-4, UL 4248-8, UL 486E and CSA C22.2
- Mounting on standard DIN 35 mm rail (DIN EN60715). The sizes 22x58 can be also fixed with screws on a flat base
- More space for finger to open fuse carrier
- All contact surfaces are silver plated
- Complete protection against touch according to IP
- Changing of a fuse-link without danger of direct touch of parts under voltage
- Possibility of sealing in ON or OFF positions
- All plastic parts are made of material resistant to extremely high tempera tures. Fuse carrier assures that a fuse link is not in touch with a housing
- For all sizes a version with electronic indicator is available. There are two technical types of indicator:
L (LED) with built–in LED diode which blinks after the fuse-link operates. The indicator is capable of operating in conditions of open circuit with minimum capacitance between connection cables. Operating voltage range from 50V to 690V.
I (NEON) with neon lamp which is constantly lit after the fuse-link operates. The operational voltage range from 100V to 750V a.c.
| | | | |
| --- | --- | --- | --- |
| | | | |
| Catalog | | | |